Industrial Electric Heaters For Restoration
Using Industrial Electric Heaters For Restoration
During any restoration project, the need for reliable, portable industrial electric heaters is crucial. From flood damage restoration to simple heating and drying jobs, finding a versatile electric restoration heater that caters to your needs and provides powerful, efficient, and sustainable heat can help your job run more smoothly, be more cost efficient, and get done quicker.
At Colorado Tri-Flo Systems, we provide portable heating solutions that are great for many practical industrial uses, including: restoration projects, construction heating, and bed bug removal — which signifies a potential new revenue stream for your business.
Our industrial electric heaters can be plugged directly into a variety of electric outlets found on site including 15 amp, 20 amp, 30 amp, as well as 50 amp; providing a convenience and safety not allowed by propane or other unreliable restoration heaters. Additionally Tri-Flo heaters are ETL Listed, so there are no OSHA or liability issues.
We have engineered our commercial portable heaters to produce efficient, state-of-the art concentrated airflow, meaning they are essential and applicable to a wide range of small- and large-scale jobs.
All of our industrial electric heaters are made in America and are built to be durable, portable, and efficient. Learn more about the Colorado Tri-Flo heating solutions below.
Cleaning & Restoration Heater Solutions
Based in Longmont, Colorado, our company knows the hazards and damages associated with Mother Nature. From flooding to freezing to preventative measures for winterization, we always have to be prepared for a wide range of potential damages to our properties.
Whether you're taking on a restoration project after a flood, an unexpected leak or pipe burst, or simply attempting to renovate a home during the cold winter months, it's more than likely that the elements will hinder your progress. Waiting for a flooded area to clear out or for the weather to warm up can take days, weeks, or even months that you simply can't afford to lose.
That's why when shopping for cleaning and restoration supplies, you need to be sure to put an industrial, portable electric heater on your list.
With our restoration heating solutions, you get sustained, ambient heat and concentrated airflow that you can count on. Even more, you get the safety of an electric heater that won't combust, leak harmful odors, or require any more than the electricity you have on-site.
Electric heaters are more cost-efficient than propane or gas heaters, and they are more efficient and effective regardless of the weather.
From warehouses to basements to garages to barns, our innovative commercial portable heaters are right for any restoration project and will run smoothly in any conditions thrown at you.
Click here to see what people say about our heater for restoration drying.
Generate More $$ By Using Industrial Electric Heaters For Bed Bug Eradication
In today's marketplace, finding sources of additional revenue is becoming a luxury. Professional cleaning companies have an existing source of new business they can to add to their service portfolio. Many companies have been contacted in recent years about the  fastest way to kill bed bugs by some of their key customers. A few may have considered and even researched bed bug eradication, however most probably did not.
Cleaning and restoration professionals have a unique position and advantage in getting into the eradication business. They already possess 80 percent of the equipment and infrastructure necessary to service this need. They have the trucks, fans, cordage and staff already conducting personal services professionally to both the commercial and residential markets. Service agreements and liability clauses are already established and being honored. They also have an existing client base with a readily available referral network.
See our article in Cleanfax magazine
All that is lacking is the proper industrial heating equipment to conduct the necessary eradication process and training in how to conduct it properly and efficiently for their current clientele. Training in how to identify infestations, ascertain power availability and properly apply heat is not as complex as one would assume. In fact, oftentimes properly cleaning certain carpet stains can require more knowledge and expertise.
Heat has been proven to be the most efficient and safe means to kill bed bugs in all stages of their development and harbor-ages. By using heat as your tool and methodology to kill bed bugs you can avoid the use of chemicals and problematic compounds that complicate the process and increase liabilities. Additionally, many strains of bed bugs are now immune to the typical chemicals and others have grown thicker cuticles that prohibit the penetration of compounds to kill them. Heat works in a very simple, efficient and effective manner and takes fewer visits to complete.
Scientific studies indicate that a temperature of 119°F to 121°F (48.3°C to 49.4°C) kills bed bugs in all its stages. Sustaining temperatures at or above that threshold for several hours assures that the heat penetrates the typical hiding places favored by the bugs; headboards, mattresses, picture frames, baseboards, nightstands and any furniture adjacent to the beds or chairs where humans spend large amounts of time.
Heated airflow is the key element in killing bugs effectively using heat. Specifically, the "convection effect" like cooking a turkey in a convection oven versus a conventional oven. The heated airflow penetrates the room and its contents to effectively kill all stages of bed bug life.
Pest control companies are required to be licensed due to the application and use of chemicals. Annual re-certification is often required on certain toxic chemicals. Typically, licensing is not necessary for heat treatments, however you should check with your state to be sure. Here is the link for doing so:  http://www.ncsl.org/research/environment-and-natural-resources/state-bedbug-laws.aspx
The chart below shows the advantages of heat over chemicals:
By already having an established business, adding a bed bug service is much simpler than starting from scratch. Anticipated revenue from conducting eradication can vary based on the types of facilities you want to service; the room sizes, level of infestation and physical construction relative to heat loss.
There are several ways to bill for the service. One manner would be by individual eradication, based on the above elements. These would fall within the $300-$600 range versus $500-$1000 for chemical applications. However, since these are current clients you can adjust and customize per account based on your relationships.
Another means would be by adding eradication services to your existing cleaning service contracts to be included in recurring monthly revenue. These services could be scaled to each client as necessary to meet their needs.
In summary, reviewing your client base, you have a pool of potential business that you may find very receptive and interested in a discreet, efficient and packaged approach to helping them resolve bed bug issues. Bed bugs are here to stay and anyone and any facility can be affected. Having the additional ability to offer this service increases your value to the client while generating additional income.
Find out which of our electric heating packages is right for your needs, and start generating more money by working smarter, dryer, and warmer today.
Don't see what you need? Customize Your Heater Package or Contact us! We'll create a custom package for you.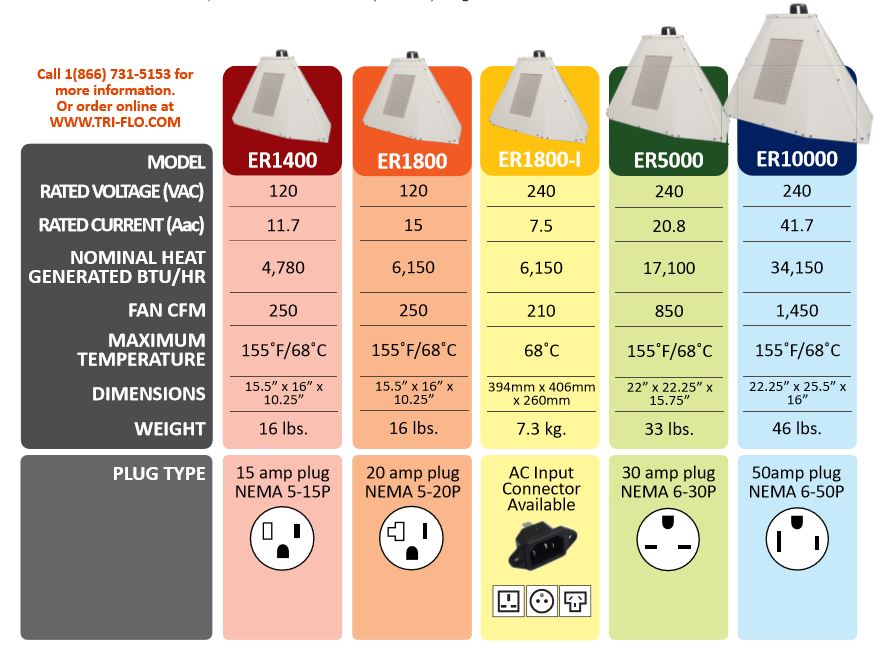 Colorado Tri-Flo Systems manufactures the Eradi-Flo line of bed bug heaters in Longmont, Colorado. Call us to learn more about how we can add bed bug eradication to your portfolio and make you more profitable with our proactive solutions.
Eradi-Flo heaters are safe, effective, environmentally friendly, and ETL Listed.  Using airflow technology, our electric heaters deliver the heated airflow necessary to kill bed bugs.
Customize Your Heater Package today to get started.