Commercial Grade DIY Friendly Electric Heaters for Rental Centers
Add to your revenue stream with American made electric heaters used for heating workspaces, drying out wet areas, and killing bed bugs. The versatile, multi-purpose line of Eradi-Flo, ETL Listed electric heaters by Colorado Tri-Flo use patented airflow technology to efficiently heat any space. Our proactive solutions will make your rental center more profitable, while providing peace of mind for your customers. Your customers will be renting these DIY friendly heaters year-round!
Rental centers can profit with our Eradi-Flo line of heaters, here's how:
The construction industry relies on heat for multiple purposes: heating workspaces for crews, drying drywall, curing paint, heating damp areas and crawlspaces, keeping supplies and equipment from freezing. The ability to bring heat to any job site is critical to getting the job done properly, efficiently and on time. The Tri-Flo line of portable electric heaters gives contractors and construction businesses the edge in economical and efficient heat on any job.
Our heaters are used for drying out carpet and crawl spaces in residential and commercial buildings after flood related events.
Eradi-Flo heating solutions have the power required for killing bed bugs. These solutions can be easily used by your residential and commercial customers who are having bed bug issues. Additionally, they can be used to heat up rental furniture upon its return ensuring peace of mind for the next customer.
Eradi-Flo heaters provide the following features and benefits:
Fueled heaters are widely used for generating heat but have multiple problematic issues: 
Kerosene and propane are combustible
Generate carbon monoxide
Requires constant re-supply and transport
Propane heat increases latent moisture and can taint paint and finish colors.
The chart above shows the advantages of using electricity over fuel for heating
Eradi-Flo heaters carry a full one-year manufacturer's warranty, are safe, effective, and environmentally friendly. They are also ETL Listed so there are no OSHA or liability issues. Our heaters are more portable than the typical propane fired rigs. Eradi-Flo heaters run on a wide variety of electric configurations found onsite. These heaters feature one cord/plug per heater allowing you to place them where the heat is needed most.
The chart below shows the specifications for our heaters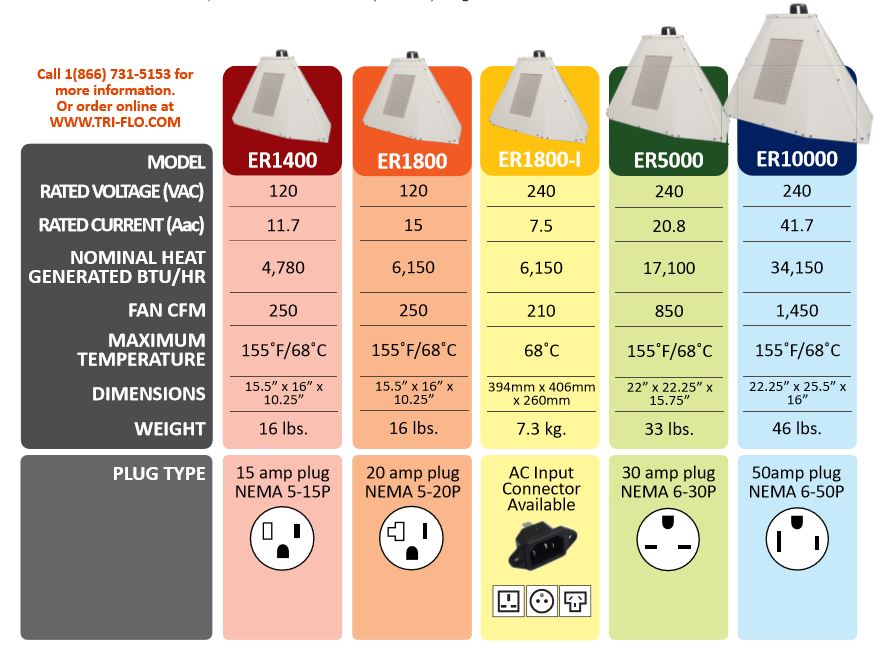 Don't see what you need? Customize Your Heater Package or Contact us! We'll create a custom package for you. 
Carry the heater line that can provide heating solutions across multiple channels: home, construction, restoration and bed bug pest control. Call today to discuss how adding the Eradi-Flo line can increase your rental revenue across several industries.