Kill Bed Bugs With Heat
We accomplish this by designing and building portable heaters that efficiently heat large and small areas using a patented airflow design. This innovative design exchanges the air several times per hour while sustaining a warm even heat. Typical space heaters put out hot stinging air directly around them using radiant elements, shields or dishes that get extremely hot and pose both a fire and safety hazard. Our heaters evenly heat and condition the air in a larger area based on your specific needs.
---
BED BUG ERADICATION
Determining your heating requirements is critical in configuring the proper heating solution for the most effective bed bug treatment.

Physical heating requirements are largely a function of the following:
The cubic room size (length x width x height)
Power available – 120 volts (15 or 20 amp), 240 volts (30 amp or 50 amp)
Insulation quality
being poorly insulated or with many windows
moderately insulated
well insulated
Level of infestation
The amount of bed bugs and number of rooms to be treated
Desired duration of eradication
The number of bed bug heaters used can reduce the eradication time
The Eradi-Flo product line is available in various wattage's depending upon the power requirements as indicated in the table below: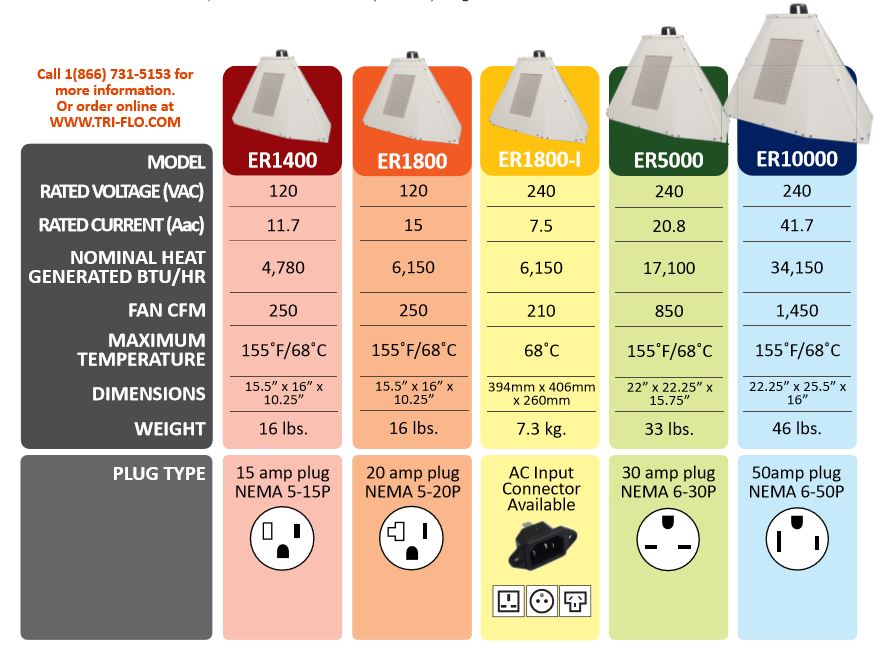 Want to get started killing bed bugs quickly?
Below are our package recommendations. All packages come with fans and a laser infrared thermometer.
Don't see what you need? Customize Your Heater Package or Contact us! We'll create a custom package for you. 
---