DIY Friendly Electric Construction Site Heaters
Safely Heat Your Construction Site
The construction industry relies on heat for multiple purposes: heating work spaces for crews, drying drywall, curing paint, heating damp areas and crawl spaces, keeping supplies and equipment from freezing.
Sources of power remain propane, gas for electric generators, and onsite electricity.
Propane and kerosene heaters are widely used but have multiple problematic issues: fuel is combustible, can generate carbon monoxide, requires constant resupply and transport, fueled heat increases latent moisture and can taint paint and finish colors.
Electric heaters provide heat without the above issues and Tri-Flo heaters are ETL Listed so there are no OSHA or liability issues. Electric heaters are more portable than the typical propane fired rigs and the Tri-Flo line covers 15 amp, 20 amp, 30 amp, as well as 50 amp electrical services.
The ability to bring heat to any job site is critical to getting the job done properly, efficiently and on time. The Tri-Flo line of portable electric heaters gives contractors and construction businesses the edge in economical and efficient heat on any job. 
The chart below shows the advantages of using electricity over fueled heaters for construction site heating:
The Best Construction Site Heaters
With a Colorado Tri-Flo System electric construction heater, you can:
Eliminate the risks and hassles of fueled heaters: Why spend unnecessarily on a propane / kerosene heater, which leaves you worrying about combustibility, high maintenance, and inconvenient sizes and mobility? With our electric heaters, you never have worry about combustion, carbon monoxide, or other refueling headaches. Our heaters are safer, more convenient, and pose no risks to the job site, with no fumes from combustion to taint your paint or workspace.
Get a convenient, portable heating solution: Our electric construction heaters are far more convenient and less intrusive than other options at a construction job site. Thanks to our innovative technology, you can generate consistent airflow throughout the room from any location. Furthermore, our heaters can plug right into the electricity available at the job site. What's easier than that?
Experience versatility: Whether you need ambient heat to work more efficiently in cold conditions, or you need concentrated airflow to a specific spot in order to dry or treat part of the work site, our electric heaters can provide the solution you need.
About Our Electric Heaters
Colorado Tri-Flo Systems manufactures the Eradi-Flo line of heaters in Longmont, Colorado. Call us to learn more about how we can provide heat to your construction site, save money, and make you more profitable with our proactive solutions.
Eradi-Flo heaters are safe, effective, environmentally friendly, and ETL Listed.  Using airflow technology our heaters deliver the heated airflow necessary to efficiently heat your space.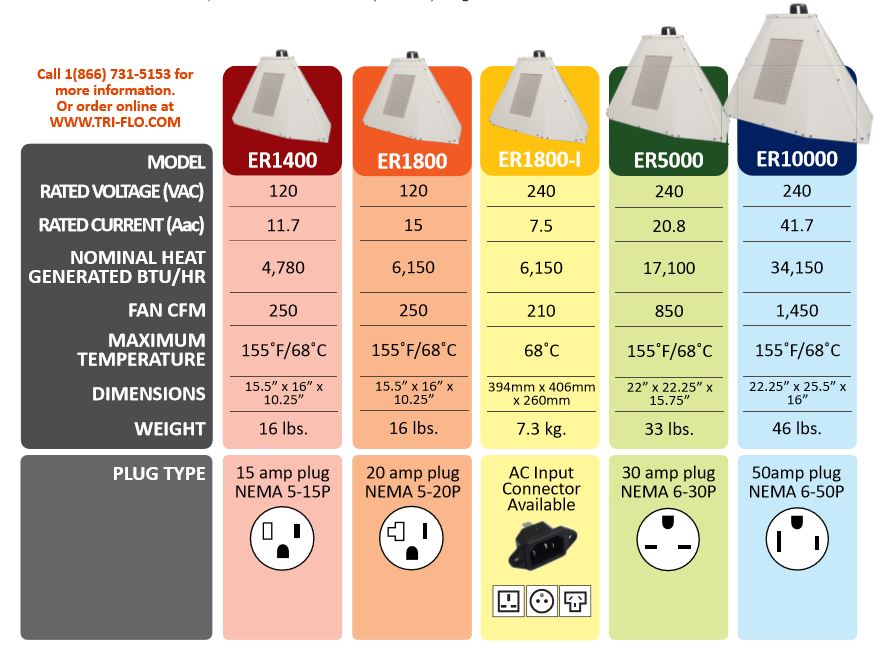 Click here to see what customers say about using our electric heaters on their construction sites.
Don't see what you need? 
Customize Your Heater Package or Contact us! We'll create a custom package for you.